Publisher Resources
The Issue

Google and Facebook are global monopolies that are abusing their power and control against news media around the world. In Canada, they're using their monopoly power to scoop up 80% of online advertising revenues and to free ride on the news content produced by hardworking journalists and publishers across the country.
Real news costs real money to report. But the monopolies are deliberately cutting newspapers off from the sources of revenue to pay for it.

Our Solution

Governments in other democracies are fighting back. In Australia, they're putting in place a comprehensive solution to allow their newspapers to negotiate fair compensation with the monopolies. They're doing it with support from all the main political parties.

The Australian approach is the perfect solution for Canada. It levels the playing field – and does so without relying on government funding or new taxes or user fees. That's why we are proposing that Canada adopt it.

What Can Publishers Do?

Publishers can download print and digital material below to educate consumers. Choose from print house ads in various sizes or download source files to create your own custom size. Please use the Feedback button at the bottom of the page to let us know when you publish any of the advertising campaigns below.

Print Ad Campaigns | Digital Ad Campaigns | Editorial Support | Feedback
For more information contact Kelly at klevson@newsmediacanada.ca

Print Advertising Campaigns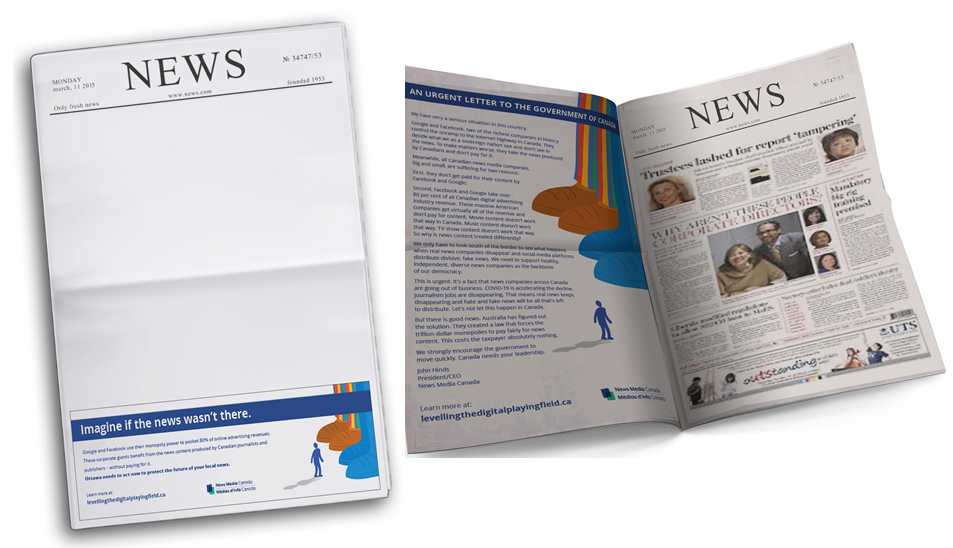 **EMBARGOED until week of February 1**

Publishers are provided with different ways to participate in the Disappearing Headlines campaign. Source files (InDesign) are available for download to create custom sizes. Ad material for all options can be downloaded (bottom banner, full page open letter and op-ed copy). Op-ed is also available to download under Editorial Support.
False front page with bottom banner + full page open letter on page 2
Full page open letter on any page

Publish open letter as op-ed with credit

---
Digital Advertising Campaigns
---
Editorial Support
View our selection of editorial cartoons and sample op-ed pieces created for Levelling the Digital Playing Field. Use them with credit or as inspiration to create your own. Click the DOWNLOAD buttons below to access cartoons and editorial pieces (including photos).

---